How to choose the right software for your business
Posted by

Alloc8, Mon, Feb 8, 2021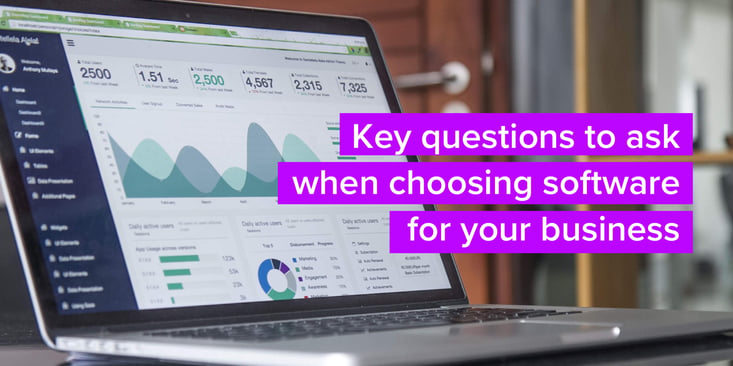 Choosing the right software for your business can be daunting, especially when there are multiple stakeholders with a different set of questions, and a decentralised workplace thanks to COVID, as well as a remote workforce if you operate in field services. Here are some key factors to consider and questions to ask to help you make an informed decision.
The best software decisions steer away from short-lived trends and move towards the ongoing sustained digital changes that will help your company scale and grow and will return a benefit over time. Our Head of Engineering Rajeev Nithiyananthan shares some insights into the decision making when it comes to software.
Turn the lights off, to see what matters
The bottom line is software that isn't saving you money or bringing in revenue simply isn't worth having, and every dollar counts. While it seems like a no brainer, Rajeev describes how easy it is for growing businesses to be crippled by subscriptions. "We had a lot of programs that – although individually not considered dear – were starting to stack up, especially per user pricing models as our team grew. Suddenly we were paying hundreds of dollars in monthly fees for software we couldn't prove value of". He encourages being ruthless when it comes to culling, "I downgraded most of them, and that quickly highlighted what we needed." Downgrading subscriptions, finding and end to end solution or cutting out a tool altogether are all important cost-saving decisions.
Get clear on the problem you are trying to solve
Successful implementation of software is no small feat – so there must be a reason you are doing it. Rather than jumping on the bandwagon, understand the true reason why you want to go paperless or introduce automation. These are great solutions, but ultimately they are solving a pain point, ie:
Excessive administration time in processing timesheets
Unhappy field workers and clients due to manual processes (ie. Excel spreadsheets, whiteboards)
Invoice adjustments and slow payments due to lost paperwork
Lack of business visibility
The clearer you can get on the problem, the stronger the assessment you can make when comparing software features during your decision making process.
Time is money
As the age-old saying goes, time really is money, yet it can be easy to overlook the hard dollar figures you would be saving when it comes to software that streamlines processes or cuts down on manual handling. A great way to translate savings into something tangible is to identify how much time the manual process would typically take you, then, how much time you would save using software to handle that workflow, ie. 30%. Subtract this off your current monthly business cost in that area - that's your saving.
At Alloc8 we work with our customers understand their ROI and saving costs when implementing Alloc8 into their business, to help explain to stakeholders, as well as a tool for measurement down the track.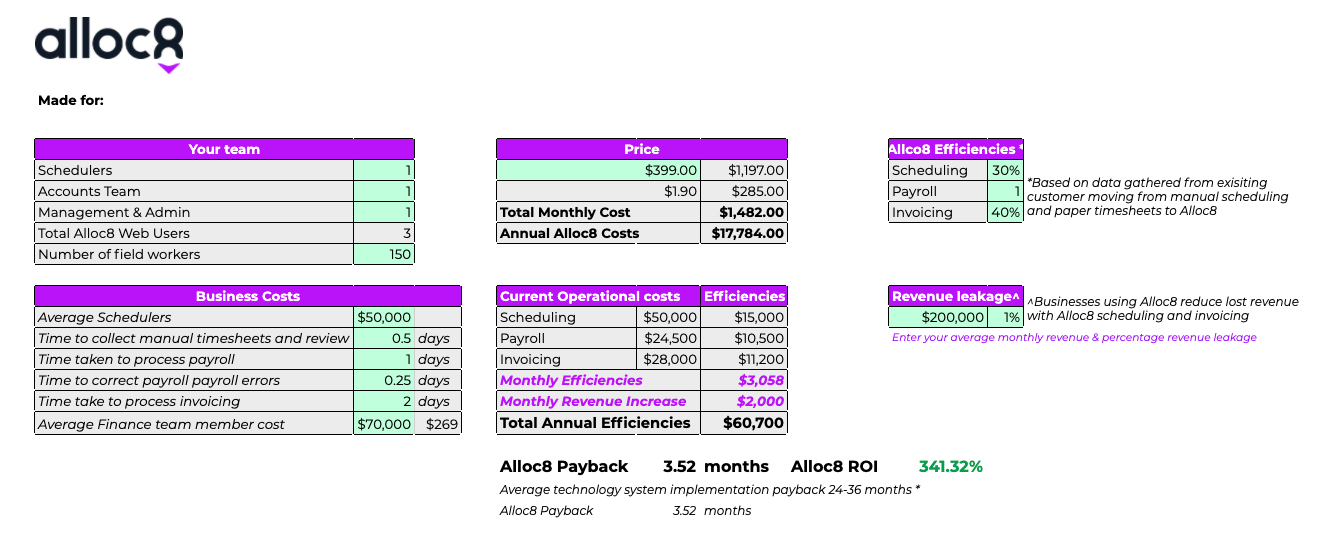 In the same way that Alloc8 saves business owners money by getting more out of their operations staff (essentially halving the time it takes to schedule a week's worth of jobs), Rajeev looks at internal software solutions in the same way. "If a process is painful and time consuming, or prone to error, a solution here can save us valuable time so our team can focus on doing more important things. We're currently looking at partnering with some BI tools, and a key deciding factor for us is how much time it would take losing valuable team members to developing this ourselves."
Can it turn chaos into collaboration?
Even as Australia emerges from COVID, working remotely will endure for time to come. A solution that unites a scattered team and unifies the goals and vision of a company with its workers provides stability and calm in what has potential to be disconnect and chaos.
"Something as small as going for a coffee or being in the office hearing the day to day conversations really made a difference for many team members when we were in an office" says Nithiyananthan. "[Management] need to work a lot harder to keep our teams engaged and communicate what's going on – from an organisational perspective but also to make staff feel part of the team".
This is not just true of a remote team, but also of a growing one. "Our team is rapidly evolving, with many new staff members joining us throughout the COVID lockdown, entering international markets, and expanding into more industries". Remote teams and different organisational units within the business need a central point of reference "We need visibility and collaboration in synchronicity more than ever, otherwise things have potential to implode."
Security is an absolute must
If Security and Disaster Recovery is not at the forefront of every CTO's agenda then it should be assumed they've already got a robust plan in place. Rajeev explains "we are seeing cybercrime becoming more sophisticated. It's not so easy to spot a threat or malicious activity anymore."
With the pandemic spurring on a whole new set of cyberattacks and many organisations adopting work-from-home policies, they unwillingly exposed their data and business systems to external threats through weaknesses in employee's home office setups. While it seems like a no-brainer, any software that protects your IP, your customer data and the integrity of your systems is an essential buy.
Takeaway: The key questions to ask
What is the problem we are solving?
Can we scale down our current subscriptions and achieve the same result?
Is there a better tool that can combine 2 or 3 of these things?
How much money will it save us over 3, 6, or 12 months?
Does it give us visibility over the key things we need?
How does this improve collaboration and synchronicity between teams?
How does this align with our disaster recovery plan and strengthen our security?
Alloc8 helps businesses with a remote workforce save time and money through automation, smart scheduling features, and complex award interpretation. A cloud based web application means business owners can see their business from anywhere, and operations staff can communicate with remote workforce in an instant with real time feedback such as paperless timesheets and forms. Our added features such as timestamps and history logs improve compliance and security of your business.
See how much money Alloc8 can save your business today
Topics: technology, news