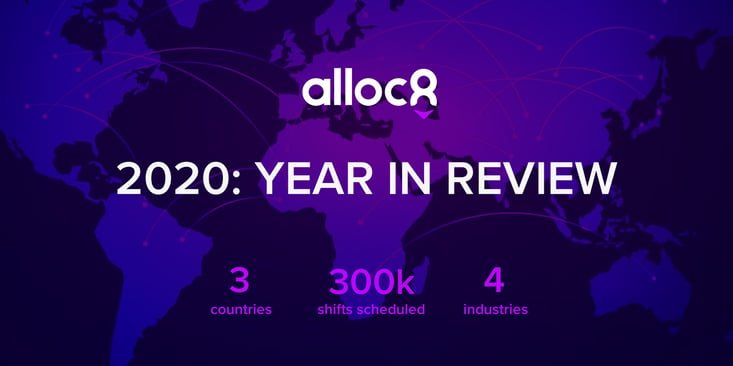 This year was anything but normal. However our foot was still on the gas at Alloc8, and 2020 saw growth in usage, new industries and global expansion with no signs of slowing. Alloc8 CEO George Khreish looks back at the year that was and provides insight into what is to come in 2021.

A message from Alloc8 CEO, George Khreish
What a year 2020 has been! To say that it has been challenging would be an understatement. But I am proud to say that a global pandemic has forced us to do what we do best – help businesses operate their remote workforce from anywhere, and provide them with the visibility, confidence and insights they need to scale and grow.
So much so that we heard consistent feedback from many of our customers claiming that they could not have continued operating to the same capacity had they not introduced Alloc8 into their business.
Amidst finding new ways to work, keep in touch, support our team, and support our customers making this same transition to achieving a 'new normal' in 2020, Alloc8 has achieved a tremendous amount in 2020. During this period we have not only grown our user community but delivered new features, expanded into New Zealand and Canada, and continue to grow our team both locally and globally.
Below is a look back at 2020 and what's to come in 2021.
2020 Year in Review
Growth in usage, new industries and global expansion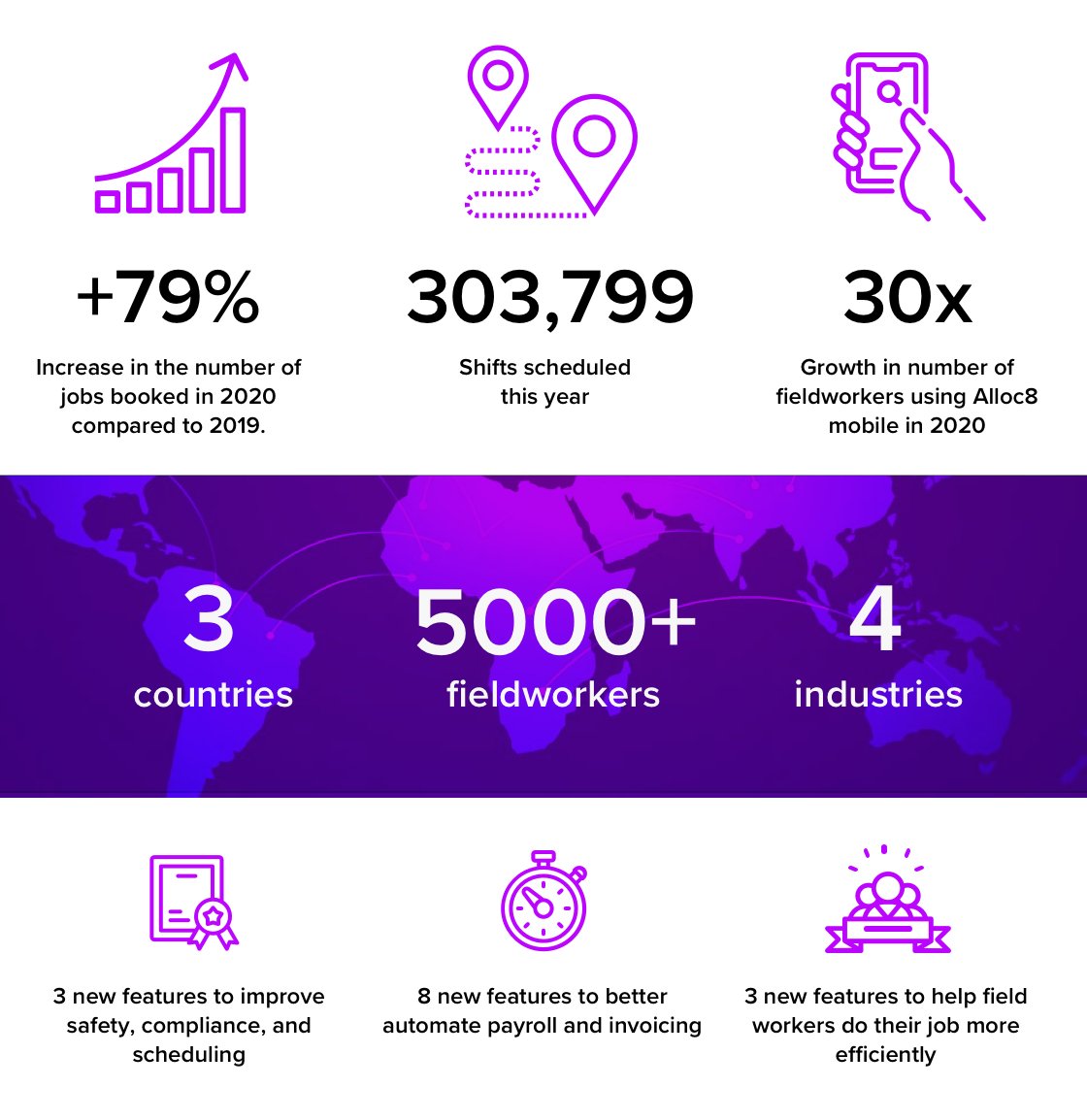 This year many of our customers were fortunate enough to operate in industries still considered 'essential services' during lockdown and with our existing customers making the transition to working from home as well as onboarding new customers who needed a solution to manage this disruption saw over 175,000 jobs booked this year – a 79% growth compared to 2019, and 34 times the total number of fieldworkers now using Alloc8 mobile compared to this time last year.
While a large section of our customer base operate in the Traffic Management industry, we are also quickly expanding into labour hire, cleaning, and in-home healthcare, as customers quickly realise the value of Alloc8 in their business. Each industry brings a different set business processes and workflows, and we have some exciting new features coming next year to improve the experience even more for our customers and their workers in these industries.
We are now officially beginning our global expansion, as we currently onboard customers in New Zealand and Canada, with a focus on entering the North American market in 2021. We're looking forward to an exciting challenge ahead!
Product Highlights
Here's a summary of a few key features and improvements we made this year to support our customers particularly when it comes to invoicing, saving time while rostering, and managing a remote workforce in shifting circumstances.
Partnerships
We are continuing to develop our partnerships and integrations with leading software companies. This year we introduced Xero OAuth2 as well as expanded our integration capabilities for both Xero and MYOB. We'll also be an official Microsoft partner by early 2021.

Supporting businesses with multiple entities in Alloc8
We introduced Businesses in Alloc8 this year to allow our customers with multiple entities to control how invoices appear per branch and where they get exported to. This feature allows you to customise invoicing details including Business Name, Logo, ABN and banking details, as well as select the connected MYOB or Xero account for that branch.
Accepting shifts for multi day jobs
Schedulers and other web users can now accept multiple shifts on behalf of a worker in a single action. This allows customers with multi day, recurring jobs to accept the entire period for a worker instead of requiring them to accept each individual job.
Improving remote work and COVID response capabilities in Alloc8
The Available Employees by Date report now has a Skills option, so you can easily run a report to see who is available by skill to manage last minute shift changes without access to Alloc8 web. We also introduced a new Employee Contact Tracing report to show all workers easily trace where an employee has worked and who they have worked with over a 4 week look back period, should they test positive to COVID-19.
Roadmap for 2021
We've listened to our valued customers this year and have been structuring the 2021 roadmap to solve your problems. Here is a snapshot of what we've got in store:
Scheduling enhancements
As mentioned we have a number of features in the pipeline to support Labour Hire, Cleaning and NDIS customers. These include new improvements to our intelligent scheduling capabilities to aid decision making when rostering, enhancements to booking jobs and some new rate card functionalities.
Improvements for the Field Worker
We will also be focussing on improving the Alloc8 experience for field workers, giving them greater visibility and control over their work and their schedule.
APIs and automation
Our APIs are underway and we have some exciting new projects ahead for BI and automation.
Ongoing platform stability and reliability
We now have a dedicated team who will be in charge of ongoing improvements to our platform to make Alloc8 even more stable and reliable as we expand.
I want to thank the amazing team at Alloc8 for pulling through these trying times. We have had it tough both here in Victoria and in Manila where strict shutdowns meant all of our team members had to work remotely, as well as a growing team in Canada getting up to speed entirely via Zoom. Despite the physical distance and time differences, it is amazing to see how closely our team collaborated together and we are stronger as a result.
Finally, myself and the team at Alloc8 would like to thank all of our customers for choosing Alloc8 as their partner in workforce management. We have missed going out to see you face to face, but hopefully 2021 will allow us to travel and visit our growing user community in person. Wishing you and your families a Merry Christmas and safe and happy holidays!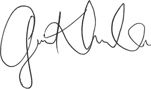 George Khreish
Chief Executive Officer
Topics: technology, news